4 Ways to Help Your Student Develop Study Strategies in the Online Classroom
I'm not going to lie – when we began incorporating online courses into our own homeschool approach, we had no idea what to expect.  Once we made the decision to opt into online course offerings, we were immediately impressed by the wealth of information and resources that teachers were able to make available.  Still, as parents, we struggled with knowing how to best help our students navigate the online classroom and, most importantly, how to develop the study strategies they needed to be successful students.
HELPING YOUR STUDENT DEVELOP THEIR ONLINE STUDY SKILLS
1. Encourage them to manage assignment resources.
We have discovered that knowing the format of each class is a vital step in student success.  Instrumental to a smooth-running semester is taking the time to look over classroom pages with our students and helping them learn where assignments will be posted, where to find due dates, and where to access any additional resources provided by the teacher.  Knowing the layout of each class helps in decreasing the probability that assignments will go unseen and resources unused.  Each student has unique methods of utilizing the assignment resources provided; the important thing is discovering these strategies and then using them on a consistent basis.
2. Help limit distractions both online and offline during class time.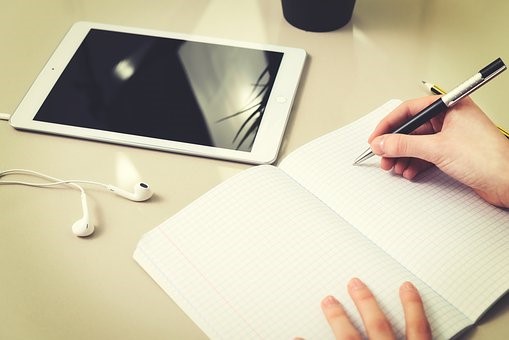 Cell phones, incoming email notifications, multiple open tabs, search engines, and news feeds are some of the many distractions we have found that create an issue in time management.  Don't get me wrong, technology is wonderful!  After all, it gives us access to exactly what we are needing…information.  However, if your student struggles with distractions (as ours did) from incoming messages, beeps, and buzzes, it's counterproductive to the positive aspects of online learning.  Help your student focus and manage time by turning off notifications on both the computer and other electronic devices. Set up house rules for technology use during school time.
3. Develop 'old-fashioned' notetaking strategies.
In online education notetaking skills are a must.  Notetaking may seem pointless to students due to easy access to classroom recordings, but studies show that utilizing the 'old-fashioned' pen-to-paper method helps store information in long-term memory.  Encourage your student to take notes that link the information being presented in class with knowledge already possessed.  Linking new knowledge to information already stored in long-term memory creates an improvement in information recall.
4. Encourage your student to interact with classmates and engage with their teachers.
Students must be willing to invest and participate in the collaborative learning that takes place in the classroom if they are to experience the maximum benefits of the online learning environment.  Student engagement (chat box, discussion boards, and use of student webcam) has been linked to individual academic achievement and increased self-esteem.  It is also a predictor of successful grades.  Our students should see themselves as a part of their peers' learning process and a source of knowledge for other students in the classroom.  Knowing they are a vital part of the live classroom will result in a feeling of belonging and ownership that will transfer to the efforts put forth outside of the classroom. 
Lisa Roark is passionate about helping students understand themselves in order to reach their God-given potential. Lisa is a creative teacher who works to bring joy into the classroom and to motivate students to achieve success. She enjoys utilizing her knowledge and skills to create an environment where students are challenged, encouraged, and motivated to strive for excellence. Her experience in the counseling and psychology field has not only provided her with content-area proficiency, but it has also given her experience in working with people of different aptitudes and skill sets.