Excelsior's French and Spanish Instructors Come Highly Recommended… By the German Instructor!
It has been an honor and a blessing to work with Señora Diana Lamolinara (Spanish), Madame Gina Duss (French), and Madame Sarah Lehtinen (French) for many years. These instructors always score exceptionally high on evaluations and are definitely at the top in online foreign language instruction!
What makes these teachers number among the ranks of the elite at Excelsior? They are totally dedicated; they all go the extra mile for their students! They continually seek to improve their online classes and research additional resources so students can better advance their skills. All communicate well and promptly with students and parents, and their Christian compassion is a blessing for each family.

Excelsior Foreign Language Instructors Offer More Than Just Book Learning
With much overseas travel under their belts, Señora Lamolinara, Madame Duss, and Madame Lehtinen share their personal experiences and knowledge of Spanish- and French-speaking cultures, thereby enriching their students' classroom experience. They also use the gifts of language our Lord has given them to minister to others on missions trips.
These Excelsior teachers are passionate about their target languages ― all speak at least three languages and are currently learning others! Their native and near-native language skills, along with their engaging and interactive classrooms, create an effective and efficient program of comprehensive study, which ― in my not-so-humble opinion ― is unparalleled in online high school foreign language courses. Most of our students have gotten credit for and even placed out of college foreign language requirements when tested via CLEP and AP exams!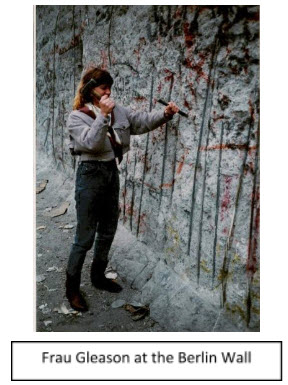 Don't blow your money….
….on do-it-yourself language courses (which rarely produce any good foreign language speakers) for your homeschooler. Check out our foreign languages at Excelsior and find out why our classes quickly fill!
____________________________________________________________________________________________________________________
Frau Susan Gleason
Instructor, Club & Trip Leader
German I-III, German Club, Educational Mission Trips
Susan Gleason has taught German online since 2011 and has an extensive background in foreign languages. Traveling internationally since she was eight, her travels include Western Europe, Scandinavia, Estonia, Australia, New Zealand, Canada, Mexico, the Bahamas, South and Central Americas, and South Africa. In 1985, while a college student, Susan led a Bible-smuggling operation into Soviet-controlled Estonia. She studied German at UNC-Chapel Hill and graduated in 1986. She lived in Germany from 1986-1991, experienced the fall of the Berlin Wall, and had daring adventures outwitting East Berlin border guards. Susan did post-graduate studies in Germanistik at Universität Würzburg, Universität Bonn, and FAS Germersheim. She worked as an interpreter at the international trade fairs in Cologne, as well as a translator and private tutor.
Known as her students' beloved "Frau Meany Pants," Susan teaches with enthusiasm, humor, and threatens students with her "legion of fire ants." She also leads the popular educational mission trip to Germany in summer and has trips in the works to other European countries.