All Religions Have Zealous Followers, but All Zealots Do Not Behave the Same
Religious zealots are not created equal.
Do you know someone who is religious, someone whose life seems to be guided by his or her faith?  The way they talk, the things they do or don't do, the way they dress or don't dress, what they do, or don't do, with their money. If we think a little more on this subject, you might agree with me that some people are religious, others are even more religious, and some are extremely religious. You might be able to put yourself or others you know in one of these three categories.
Let's narrow our discussion to just one religion: Christianity. Today's blog is all about radical, zealous Christians. What do those who seem totally given over to the Christian faith do?
They start schools.
Of course, Harvard, Yale, Princeton, Dartmouth, and others like these come immediately to mind. It was passionate Christians who so valued education that they gave of their time and fortunes to ensure schools would be built and funded into the future. Many thousands of schools around the world were founded by an individual or a small group of Christians.
They build hospitals.
Since Jesus spent a great deal of time caring for the sick, His devout followers imitate Him. All we have to do is look up the street and consider the names of our hospitals: Saint Elizabeth's and Saint Luke's, for instance. There is little doubt about who founded them. Again, if we go around the world, we would see many thousands of hospitals built and funded by serious-minded Christians.
They come to the rescue.
Helping and caring for those in need seems to be the preeminent occupation of these people. One example from millions:
When a disaster strikes anywhere in the world, and I repeat, anywhere, there is a Christian organization called Samaritan's Purse on the scene in a very big way. After telling the story of the good Samaritan, Jesus said, "Go and do likewise." Today in Texas, Florida, and Puerto Rico there is an army of good Samaritans providing food, medical care, housing, and clean up for those still displaced by the hurricanes.
They sacrifice much.
And finally, a story of a Christian who regularly goes, of all places, to North Korea.  "As the Kim regime gave the order for its 13th missile launch of the year, American Heidi Linton was crisscrossing North Korea's mountains and rural valleys, covering more than 2,000 miles in two weeks to run clinics for TB and hepatitis B patients. For the 52-year-old mother of three, who 22 years ago began volunteering for the humanitarian aid group Christian Friends of Korea (CFK), managing medical work in arguably the world's most restricted country is all in a day's work. The August journey was her 54th trip to North Korea." (Belz, Mindy. "Death-defying acts of kindness." World Magazine. September 30, 2017. Print)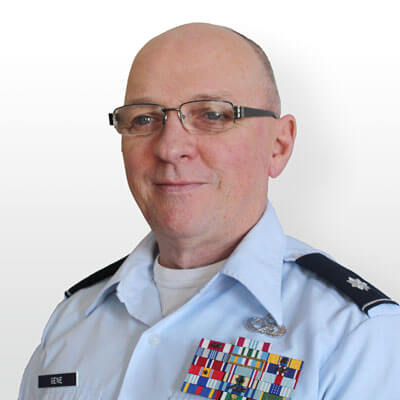 Lt. Col. Gene Doremus grew up on a dairy farm in upstate New York in a very large family: eight brothers and six sisters. After nine enlisted years in the Air Force, he became an officer and served twenty-two more years, retiring as a Lieutenant Colonel. Most of his career was in munitions or aircraft maintenance where he proudly served on the deployed headquarters staff during Desert Shield/Desert Storm. His claim to fame came immediately after 9/11 when he led the U.S. Central Command's Joint Munitions Office for Operation Enduring Freedom. Retiring in 2005, he taught JROTC for six years.