Gourmet Foods from the Winnie: Success on the Go!
Camping is a fond memory from my childhood, but with homeschooling this has been an adventure. My parents are close to retirement, so they have purchased a Winnebago for weekend and seasonal trips.
At times, I am the chief chef (and bottle washer) for the RV, so I've worked on a few ideas to keep the gourmet food rolling!
Tip 1: Travel foods should be a mixture of healthy foods and fun family snack foods, such as: fruits, vegetables, guacamole, hummus, chips, popcorn, salads, and sandwiches conveniently wrapped for quick passing in the vehicle.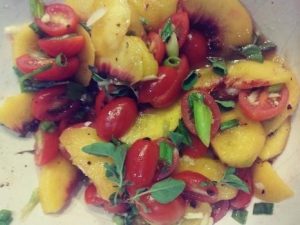 Tip 2: Have at least one meal prepped before you head out; make it something easy for the set-up day! We have learned from experience not to overload the mini fridge for traveling. Instead, pack a large cooler and make sure there's plenty of ice and freezer packs. Always think of food safety; cold foods should be held at 36-40 degrees. (Buy a thermometer!)
Tip 3: Make use of local foods! To enhance your culinary experience, visit local farmers' markets and purchase seasonal food from the areas you are visiting. Many locations can be found online through the U.S. Department of Agriculture's Farmers' Market Directory. I also recommend checking out the visitors' centers located in many towns for information about local produce stands and the like.
Tip 4: Keep basic staples such as foil, olive oil, and favorite seasonings on hand.
Tip 5: Create and maintain a clean work space. I recommend two or three bus tubs, ideally one for dirty dishes, one for clean soapy water, and a third for sanitizing.
Tip 6: Prepare meals in advance! Foil meals are an excellent option packed full of meat, vegetables, and starch, and you can easily mix things up with different ingredients and seasonings!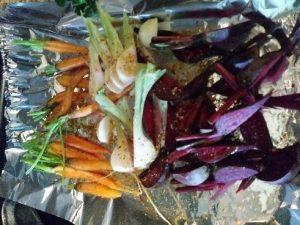 In the summer of 2015, my family and I packed our belongings and traveled west for three weeks. We were studying geography and had the opportunity to visit mesas, plateaus, peninsulas, mountains, sand dunes, glaciers, rain forests, islands, bays, rivers, valleys, passes and oceans. A trip to my parents' house in the Pacific Northwest solidified all things geography, and we have created many memories with opportunities to share.
In the fall of 2015 we visited Oregon and Northern California, because we were studying Lewis and Clark and the Oregon Trail. I wanted my children to experience seeing Giant Redwoods, the End of the Oregon Trail, and much more. I asked my children, "Can you imagine what the settlers thought as they crossed over the mountains and saw these Giant Redwoods, hundreds of feet tall?" Redwoods and their relatives, the Giant Sequoias, are primarily located in the Pacific Northwest, and can live to be 3,500 years old! If you live anywhere near this area, it makes for an awe-inspiring and very educational excursion!
The adventures of exploring national parks, historic sites, and the vast geography of America the Beautiful are only a campsite away; not only can you experience the grandeur of such places, but you can also practice your on-the-go, camp food cooking skills!
_________________________________________________________________________________________________________________________
Jennifer Pasos has been teaching online for the past six years. She is a career chef/pastry chef with twenty plus years of experience in the hospitality industry. She received dual associate's degrees from Sullivan University in Louisville, KY. She is a mother of three children, two of whom are homeschooled.