Is French Just for France?
I believe that French is a very useful language and obviously très cool, but what if you don't plan on going to France? Is learning French still practical? Of course it is! But, I would say that because I'm a French teacher, right? Well, I decided to test my theory while on a recent trip to Washington, D.C. I set out to explore the city and see just how much French I could find, and I must say that what I found was surprising.
Historically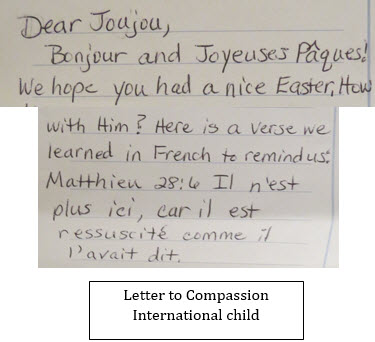 Are you aware of how much involvement the French have had throughout history? What about their contribution in the area of espionage? Here are a few interesting finds that I came across while visiting the International Spy museum in Washington, D.C. For example, do you know which famous French person was involved in the discovery of the Rosetta Stone that unlocked the mysteries of the ancient Egyptian hieroglyphics? What if I told you it was the infamous Napoleon Bonaparte's army back in 1799? And do you know that a Frenchman by the name of Jean-François Champollion was the person who actually cracked the code on the Rosetta Stone, providing translation between ancient hieroglyphics and the Greek language?
And en parlant de mystère, are you familiar with the sinister Cardinal Richelieu, who built one of the most powerful spy networks throughout Europe during the Renaissance period? Perhaps you are already acquainted with him if one of your favorite classic reads is The Three Musketeers. Quelle intrigue!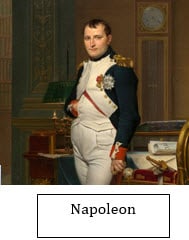 Speaking of intrigue, have you ever heard of an American woman by the name of Virginia Hall, or should I say, La Dame Qui Boite, also known as "The Limping Lady?"  During World War II, Hall donned many disguises, from journalist to milkmaid, in order to inform the Allies of the Axis powers' operations inside of France. She was such a threat that the Gestapo considered her to be one of the most dangerous Allied agents and sent out orders that she be found and destroyed. Comme, c'est terrible! I discovered these interesting French facts and many more while strolling around in the Spy museum located in Washington, D.C. Le français est vraiment partout!
After exiting the Spy museum, I decided to head over to the National Air and Space Museum. Would I find any French there? I admit I was a bit skeptical, but to my great delight, I came across several exhibits containing important French contributions in the history of aviation. Take the mysterious Night Bomber, AKA Le Voisin VIII, for example. This French biplane was one of the first of its kind to be used in World War I. Next, I stumbled upon a display about one of the most well-known French aviators, Jules Védrines, who is known for his flight all the way from Paris to Cairo in 1912. Comme c'est courageux!
PRESENT DAY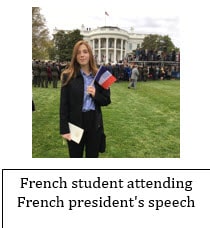 After successfully discovering an abundance of French history in the museums, I was curious to see if I could find a bit of French in other areas of the city. To my surprise, I counted over thirty French restaurants in and around the area of Washington, D.C.  Incroyable! What a perfect opportunity to parler français and enjoy a bit of la délicieuse cuisine française! Next, what better way to walk off a few calories than to take a stroll on the Pierre Charles L'Enfant walking tour? I was able to see beautiful architectural elements similar to those in the extraordinary Château de Versailles right in the heart of our own nation's capital. Magnifique!
STUDENTS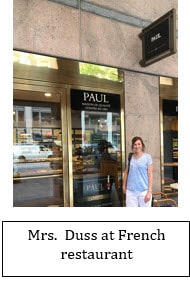 So, how are all of these French sightings important? It reminds me that one doesn't have to go to a French speaking country in order to use French. Whether you're a history buff or a gourmandize, there are so many opportunities to explore the Francophone world right here in our own backyard. I love to encourage my French students to make the connection between their everyday lives and the French that they're learning in the classroom. It's always exciting to see the many ways they're able to do this. Sometimes it's using our French Bible verse in a letter that they're sending to a sponsored child with Compassion International. Other times it's traveling to the White House to hear the president of France speak.
There really is so much French all around us. So, take a French class and brush up on your French. Then get out there and enjoy toutes les choses françaises!
Gina Duss earned her Bachelor of Science degree in French Education from University of Georgia and furthered her studies at the renowned Middlebury College's French immersion program. During her college years, she was blessed to study abroad in Tours, France and the rest is history!  She has taught in various capacities over the years from elementary to high school and is thrilled to be in her current role teaching students from all over the world through online learning.  Gina brings her love for everything French: the language, the culture, the country, and the people, right into the classroom!  When she's not teaching, she enjoys spending time with her husband, children and many fur babies.