Can parents work full-time and homeschool their children concurrently? There are many different ways to balance the demands of the workplace and homeschooled students' educational development.
Balancing Work and Homeschooling
Whether parents are full-time or part-time workers, the demands of both the workplace and family can make it difficult to balance priorities. It can be an initially daunting challenge to work full-time and homeschool your students concurrently; however, it is possible. There is no singularly defined method for balancing work responsibilities and homeschooled students, so working parents should aim to develop a system which works best for their families. There are countless various solutions and methods which can be employed for working parents looking to homeschool their children; however, here are three key tips for balancing work life and homeschooling.
Scheduled Regroup Time
Regardless of a parent's regular working hours, it can be incredibly important to develop a regular schedule for reviewing schoolwork. Whether this is thirty minutes before work or an hour after work, these set regrouping sections will benefit your student as they will have a daily opportunity to review work that was challenging or potentially confusing. The second facet to this recommendation is to ensure your students have ample time to work through their schoolwork throughout the day, so they will have questions or comments to bring to the regrouping session. A regularly scheduled daily session to address any comments, concerns, or questions students may have will strengthen their abilities and will provide students with a reliable and predictable structure for their schoolwork. 
Support Groups
Another method for boosting structure and success within working and homeschooling simultaneously is to seek out local support groups. For parents of students with special needs or disabilities, these support groups can provide additional structure and support throughout parents' homeschooling journeys. There are many national, state and local groups structured to promote and support the educational development of students with disabilities. A few of these national groups to consider are The Arc, CHADD, and Pacer. However, there are a multitude of various groups throughout the United States, so parents should further consider which support group options will work best for their families. Finally, other recommendations for groups are Church-based Mom's Day Out Activities, Consortiums, Game Clubs, Homeschool Co-ops,  and Neighborhood Groups forming all the time across the nation.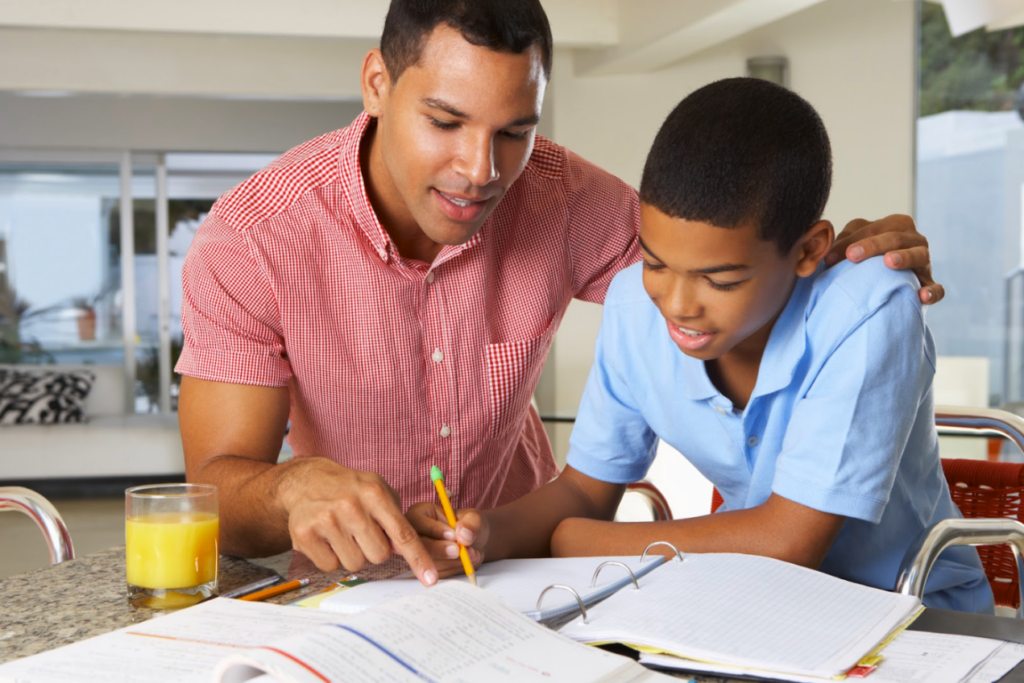 Remote or Hybrid Work
The Great Resignation is a currently occurring movement bringing about greater degrees of freedom in all aspects of life, homeschooling included! (Curtis 2021). Hybrid work is a combination of working at home and working in the office. This is often a good solution for families with homeschooled kids because it allows parents to be home more while still earning an income. Remote work is also a beneficial option when applicable. Working from home is great. Parents and students can wear their pajamas, do the laundry, or even just get up and run to the cleaners when needed. Remote work provides extensive flexibility for parents aiming to work and homeschool. When parents are provided with the option, they should certainly consider the benefits of remote or hybrid work schedules comparatively to full-time hours in the workplace. Further, there are lots of ways to learn remotely as well. For example, working from the library is an excellent option. Most areas' local libraries have computers and free WiFi, so this is an easy option. Plus, many libraries offer programs where you can borrow books for free or with a small fee, so this is also an educational and affordable method for encouraging reading and literary development. Some libraries even have children's story times at various times throughout the day.
Conclusion
In conclusion, there are many ways to manage to work full-time and homeschool your kids. As with most challenges, the key is to be creative and to find solutions that work for you. Some overarching suggestions are:
Schedule a Regular Regroup Session for Your Homeschooled Students

Seek out Applicable Support Groups for Students with Unique Needs

Consider Hybrid or Remote Work Options
If you are a working parent considering homeschooling your kids, now is the time to take the leap! There are many ways to homeschool and continue working. This article was intended to provide some creative solutions and methods available for working parents. Homeschooling rates have been increasing in recent years. The U.S. Census reported that the rate of U.S. households who were homeschooling at the start of the 2020-2021 school year had doubled compared to the prior year (Fields 2021). This is a major increase which has revolutionized homeschooling across the nation. There are more options currently available than ever before for balancing your various familial and workplace responsibilities, so there is no better time than the present to start your homeschooling journey!
External Links:
http://www.thearc.org
https://chadd.org/
https://www.census.gov/library/stories/2021/03/homeschooling-on-the-rise-during-covid-19-pandemic.html https://www.pacer.org/cmh/
References:
Curtis, Lisa. "Why The Big Quit Is Happening And Why Every Boss Should Embrace It". Forbes.  2021-07-16.
Fields, Casey Eggleston and Jason. "Census Bureau's Household Pulse Survey Shows Significant Increase in Homeschooling Rates in Fall 2020." Census.gov. US Census, October 8, 2021. https://www.census.gov/library/stories/2021/03/homeschooling-on-the-rise-during-covid-19-pandemic.html 
Ready to get started?
Sign up today.