Solving the Puzzle: How to Use Annotation to Your Advantage While Studying A Foreign Language
Over the past several months, there has been a wealth of information provided on how to use annotation to better your literary analysis skills. For more information on that topic, check out these blogs from Excelsior Classes English teachers Jess Woods and Jenny Cutler. These same tools are useful in the study of a foreign language. However, did you know that even elementary annotation can be used to gain basic comprehension of a foreign text? Here are some tried and true ways to annotate for foreign language comprehension, no matter your level of study:
Step 1: Underline the subject
In any given sentence, you need to know who the subject is. This seems elementary, but sometimes it can feel really complicated. Taking the time to understand who is the focus of the sentence can make all the difference.
Step 2: Circle the verbs and make note of verb tenses
Identifying the verb in a sentence is normally pretty easy; figuring out the verb tense can be a little trickier. However, to capture the true meaning of a sentence, knowing the verb tense is a critical step. It can make or break your understanding of the sentence.
Step 3: Highlight words you don't recognize (but be selective!)
Scan your sentence or paragraph and find the words that seem to play a large role. This is a great way to learn new vocabulary. I like to draw arrows letting myself know the definition of these words. Then, I add them to my vocabulary list and look over them several times a week (yes, the teacher has a vocabulary list!). This step not only helps you understand the immediate text, but it also makes comprehension easier for future texts.
Step 4: Speak it!
Though not strictly annotating, this is a crucial step for understanding your text. Foreign language is like a gigantic puzzle and knowing the key pieces can help you understand the whole thing. Don't be afraid to work through your puzzle out loud.
Here is an example that follows all four steps. These sentences are from the short story "Boule de Suif" by Guy de Maupassant: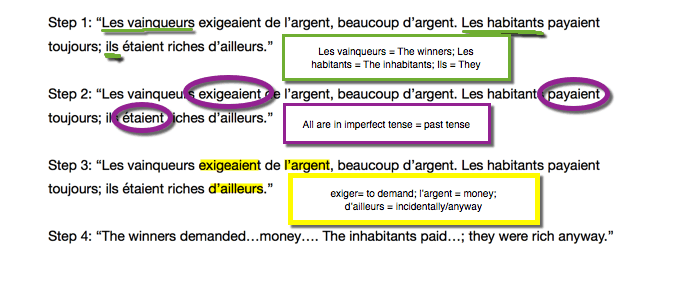 From these steps, we can garner the "bare bones" of the sentences, which, when best translated, mean: The winners/conquerers demanded money, a lot of money. The inhabitants always paid; they were rich anyway.
 As you can see, I didn't achieve the perfect translation, but I did come up with a general meaning. For most reading at the high school level, the simplified version is all that you will need. If you are struggling with understanding readings in your foreign language classes or are just finding yourself lost in a sea of unknown words, give one or all of these tips a try. Let us know if they work for you!
Sarah Lehtinen has always been a teacher at heart! In her French classes, she wants her pupils not just to be students of language, but also of the world. She feels that global citizenship is one of the best lessons she can teach through language. Sarah enjoys trying new restaurants, yoga, ballet, coffee shops, and hiking. She is married to Simon, a fellow French speaker. They reside in Charlottesville, VA. Sarah teaches French III for Excelsior Classes.