In my live classes, we speak Spanish, recite Bible verses and read stories in Spanish, and learn Spanish grammar using a variety of activities. Outside of class, students are assigned written and listening comprehension homework to practice the skills they are learning. Towards the end of the 2017/2018 school year, the Spanish I students were also assigned a wiki-project.
Each student chose a Spanish-speaking country and did some research on that particular country. They were graded on ten different criteria, and one of the requirements was that they needed to write their findings in Spanish. In essence, the students were using much of what they were taught during the school year to help them complete the project.
These students (Gabriela, María, Andrés, Reina, Carolina, and Carlos) demonstrated that they were able to use what they learned about grammar and vocabulary to complete their assignment.
Below are some student samples for this particular wiki-project.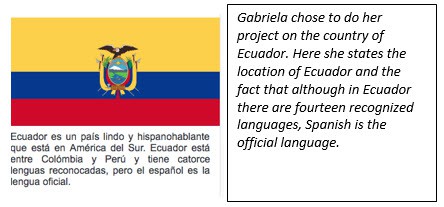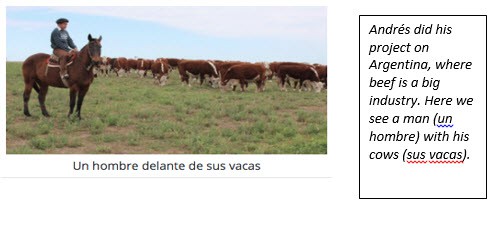 Learning a foreign language can be a lot of work, but it can also be enjoyable. Not only are projects a fun and engaging way to get students excited about the learning process, but they are also a way to use what they have learned in a meaningful way. If you are interested in learning more about what I teach at Excelsior Classes, please check out my page using the link below.
Diana Lamolinara is a native speaker of Spanish who has lived in the Spanish-speaking countries of Puerto Rico, Venezuela, and Spain. She also lived several years in Italy, where she studied Italian.  Mrs. Lamolinara has a BS in Business Administration and a BA in Foreign Language Education from the University of Maryland, College Park. Diana has been teaching Spanish to students at all levels from Pre School to AP for over 25 years.  She is a former homeschooling mom. In addition to teaching, Diana enjoys reading, exercising, cooking and taking long walks with her dog in the woods.  The Lord has blessed Diana and her husband with four children and three grandchildren.